Ensuring that Dialogues are closed in a timely manner helps to keep records accurate and ensure that all Customer feedback is addressed.
Dialogues may be closed through the process of replying.
Dialogues for which no Reply button is displayed must still be closed. For example, if a Customer has provided a phone number and no email address, the returned phone call can be logged as an Action Taken in Internal Comments and the Dialogue can be closed.
Anonymous Dialogues must be closed. A Reply button will not be displayed, and follow-up may only include internal Comments and actions (re-assignment, Tags, etc.).
Close a dialogue when replying to the customer by selecting Send as Closed.

Close a dialogue through the menu icon at the top right-hand corner.

Close a dialogue through the status menu.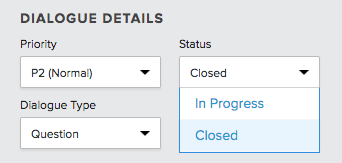 A closed Dialogue will be evident from the Status field, a lock on the Reply button, disabled buttons/fields, and its appearance in the Closed Dialogues folder. To re-open, switch status to In Progress.
Note: By default, if an email address has been provided and no opt-out settings have been changed, closing a Dialogue will send the Customer a Feedback Form. Learn more under Customer Feedback Form.