Notifications give you the updates you want — when you want them, and how you want them. Set your preferences and never miss a beat!
Note: Notifications are user-specific. Each User can set preferences to receive notifications via email, via mobile app push notifications, or in the Notifications section of the Let's Talk! account. System Administrators cannot update notifications for other Users.
Customize Notifications
Under Your Settings, on the left-hand side of your screen, click on Notifications.
By default, you'll see your Notifications Stream. Learn more about this area below.
In the top right corner, find and click on the cogwheels that appear just below your name.
Each item listed along the left is a triggering event, with each of the icons to its immediate right representing a mode of notification for the
Dialogue's Owner or Team Member: Email, Web, or Push (Mobile).
To remove an event completely, deselect the check mark to its left.
To turn a specific alert on or off, simply click on the relevant icon. Green means active and gray means inactive.
Click the Save button in the top right-hand corner to confirm any updates.
What Activity is Tracked?
The Notifications section captures the following activity and changes to Dialogues:
New Dialogue received
Dialogue assigned to User
User added to Dialogue team
Dialogue closed
Interest Area updated
Response received from Customer
Internal comment added to Dialogue
Dialogue priority updated
Feedback score received from Customer
Dialogue is Past Due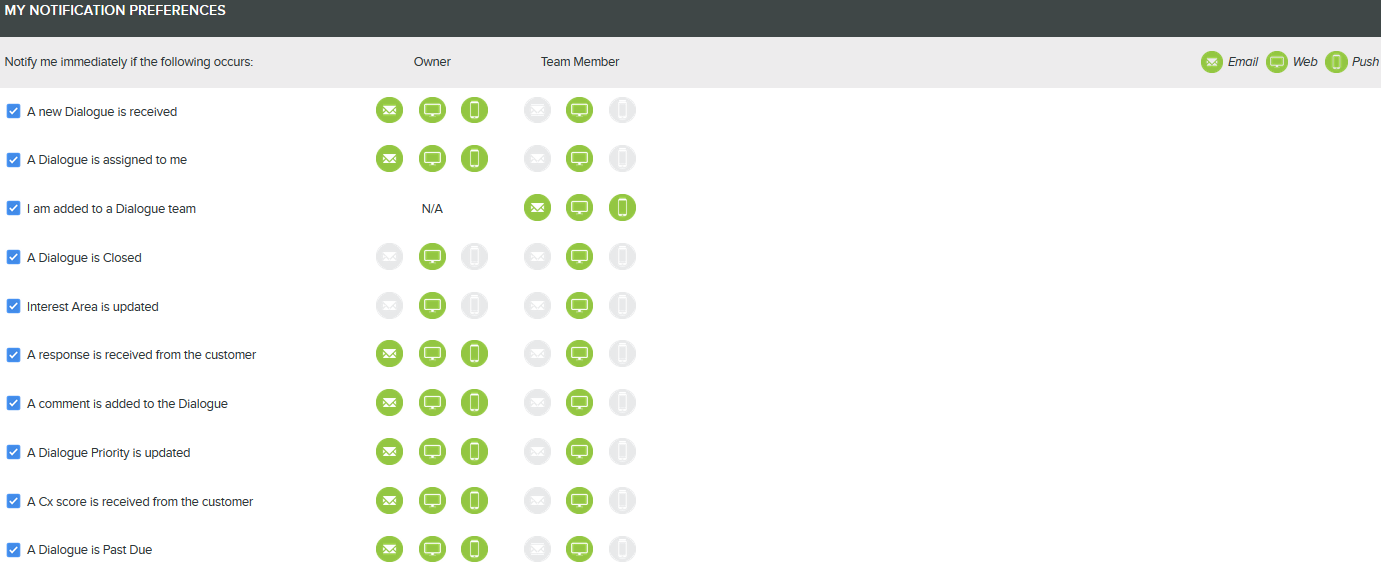 Notifications Stream
Both web and mobile versions of Let's Talk! include a Notifications section.
The number icon next to the Notification section indicates the number of new Notifications since the last review.
Customize settings by clicking the cogwheel in the top right-hand corner (see Customize Notifications).
This stream include relevant activity from the past seven days regarding Dialogues for which the User is an Owner or Team Member.
In the top right, Users may choose Show or Hide My Personal Activity and/or Discard All Notifications.
Clicking on a Notification will direct the User to the relevant Dialogue.