Welcome to the world of Let's Talk!.
If you've recently been added as a new user and you don't know what to expect, no problem! Luckily for you, Let's Talk! offers a complete walkthrough of the system the first time you log in.
Not your first time logging in?
Enable the walkthrough at any time by clicking Launch Tour Mode on the Profile page of Your Settings. (Access Settings by clicking on your name in the top right-hand corner of the screen.)
The walkthrough sets you up for success, guiding you through your role as a user of Let's Talk!, what a Dialogue is, and how to interact with a Dialogue. The tour consists of:
Review Responsibilities

Get a view of the Interest Areas you are assigned to
Be informed of the Teams you belong to

Meet your inbox

Familiarize yourself with your inboxes and their organization

Reply to a Dialogue

You've gotten your first sample Dialogue! Now what?

Post Internal Comment

You're not alone on these Interest Areas! Send comments within the Dialogues to other Team Members and address the question, concerns, or feedback together.

Forward a Dialogue

Learn how to share or pass on a Dialogue to people who are not Let's Talk! users.

Close a Dialogue

Last but (certainly) not least, learn how to successfully close a Dialogue to address the Customer who submitted it.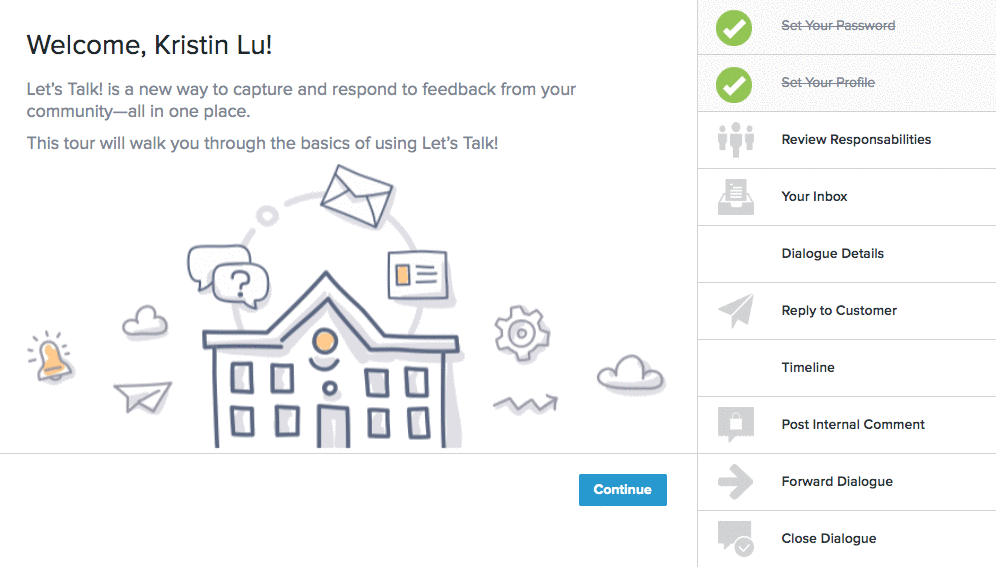 Every user on Let's Talk! plays an important role with the school district. The walkthrough is designed to help you become familiar with the Let's Talk! platform. Keep track of your progress on the side, and at any point you can Exit Tour or Dismiss all tips to stop the on screen guidance.
Welcome again! We're glad to have you as a member of the Let's Talk! community.
Attention System Administrators
When you add new users to Let's Talk! and send activation emails, they will be directed to the walkthrough upon their first login.
To encourage all users to be ready when Let's Talk! goes live, a few automatic reminders are built in, too.
If a user has not logged in to his or her account seven days after receiving an activation email, Let's Talk! will send an automatic reminder.
If a user begins the walkthrough but does not complete this basic training within two days, Let's Talk! will send an automatic reminder.
Logging in and getting started is simple. Take a tour, cover the basics, and be ready when real Dialogues arrive!