If your team receives a Dialogue that should really be answered by a different team, you can reassign the Dialogue to a completely different team by changing the Topic. The owner of that Topic will receive an alert notifying them of the reassignment. The Customer will not receive any notification if a Dialogue is assigned to a new team.
To assign a Dialogue to a different team, follow the steps below:
Consider providing additional context for your colleague through Internal Comments prior to transferring. Once you've reassigned this Dialogue away, you may no longer have access to it.
Click in the Topic drop-down menu
From the list of Topics that appear or by clicking on "Show More", select the appropriate team to receive this Dialogue.
From the drop-down, you can see a list of Topics and the owner as well as the number of team members on that Topic.
Your chosen Topic will now appear in the Topic field and that team will be responsible for follow-up.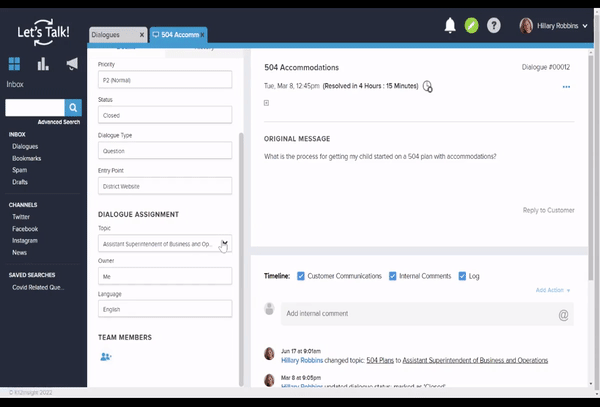 If you re-assign a Dialogue to a Topic you don't have permission to view, you will no longer have access to this Dialogue.
Any users who were added to the Dialogue manually will stay on as team members even after the Dialogue is reassigned to another team.