Did you know almost seven out of 10 Let's Talk dialogues are closed with a single reply to the customer? With this in mind, we created a feature that makes it easy for team members to manage dialogues which are straightforward and only require a quick and thoughtful reply.
Meet Email Replies — a convenient way to reply to Let's Talk dialogues directly from your email inbox.
To get started, look for the ##Reply to email to respond to the customer## at the top of your Let's Talk email notifications.
Next, click Reply and type your response to the customer. When ready, click Send.
The customer receives the response and the associated dialogue's timeline will note that it was sent via email. Note that if you've previously adjusted or disabled your notifications, you can make adjustments or reset to the default settings. Check out this article for more information.
Settings
By default, all Team Owners and Team Members will be able to reply to dialogue notifications, changing the dialogue status to Closed and sending the feedback form to the customer. System Administrators may adjust these default settings to update who can use the feature and the status of dialogues.

If the customer does not provide an email address when submitting their dialogue, users will not be able to reply to the dialogue via email. This will be noted at the top of the email notification.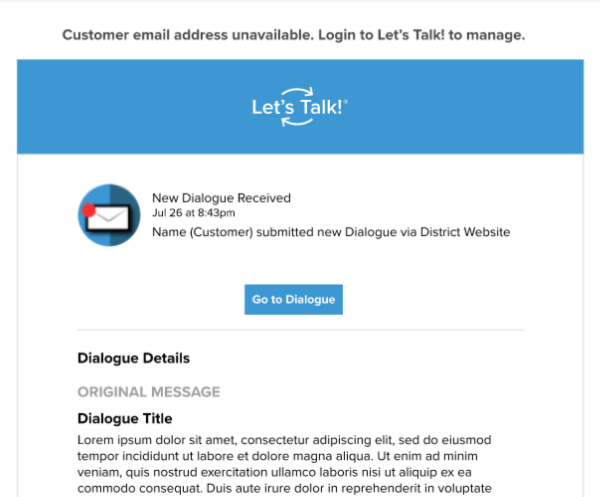 Notifications
When a user replies to a dialogue via their email client, notifications will be sent immediately to other team members on the dialogue to alert them as well.